Supra Tech Support #: 1-877-699-6787
Supra website: www.supraekey.com


Call SCCAR at 831-464-2000 for pricing information.
SCCAR offers its members three key options. Members can now choose a stand-alone Active key or utilize their smart phone as a key with two service levels, eKey basic or eKey pro. For a comparison of features, click here.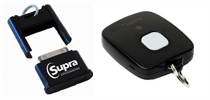 When Do You Need Your eKey FOB or adapter?
Out of area keyboxes labeled BT are not compatible with the Bluetooth on iPhones. As such, iPhone users will need a ekey fob/adapter to access them. Fobs are also necessary to access the old iboxes (used prior to last year's exchange). If you do not have a fob, one can be purchased at our office.  


Attention Android Samsung Users: Samsung smartphones, versions 4.3 or greater have experienced sync issues with the Supra fob. If your fob will not sync with Bluetooth you may need to purchase a new universal fob at SCCAR.